Mobile Trainer for personal attention Payment received confirms spot.

2018 starts our 22nd years as the first daycare in WNY and of Setting Standards in Business! Pawsitive helped set voluntary national safety standards in the dog care industry (see Resume). Make your choices carefully and with eyes wide open. Questions about standards to look for? Feel free to call and ask before you take your dog for pet care services. No regulations exist in NY - any one can open their doors which does not always equate to qualified.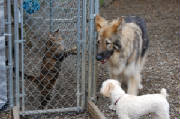 28 Pet 02 Masks donated to date in the Southtowns
ALL services must be prepaid, including daycare,

before or at time of drop-off

. No exceptions. See

Prices 2018

for details and options.

A Pawsitive Experience is Committed To Excellence - Adequate is Not Good Enough

Fully Licensed, Zoned, Insured Facility Recommended by Vets, Peers, Clients & Dogs

Sign up now for small classes and personal attention. Learn more than obedience at the end of a leash !

HAPPY HOURS

Saturday 9am - 10am

Sunday 9am - 10am

BUSINESS HOURS

Mon - Sun

6am - 9pm

365 days/year

8 weeks to Seniors

Special Needs Dogs

All ages and sizes welcome

Specialty - early sensitive learning & imprinting periods to aid in developing coping skills with real life situations for your dog. Expedite building a life-time family companion in a well-managed home environment. P.A.W.S.

Training is primarily off leash consisting of hand signals and learning body language. Services

Pawsitive is proud to be in full compliance with safety & care standards required for certification (Natl. Pet Care Services Assoc.) including more than the recommended (unencumbered minimum)

50 sq.ft. per small dog

75-100 sq.ft. per med/large dog

Ready to Go to A Pawsitive Experience

A PAWSITIVE EXPERIENCE

offers

Dog Daycare, Home Boarding

Training for A Family Companion

P.A.W.S. (Puppy Adaptation to World Stimuli)

P.A.W.S.T (Puppy Teens Adaptation to World Stimuli)

Dogs & Storks Trainer

Pet-Child Safety Program

Happy Hours & More

NEW: AKC Puppy Star & CGC Classes

The First In-Home Boarding Facility in WNY

6440 Schultz Road, Hamburg Township, NY 14085
(716) 627-9234 msgs Fax 627-1330
Select Logo Below for Directions

All material and reference to any and all of this web site (whether in part or entirety, including the name or any part thereof of A Pawsitive Experience (TM)), is the property of owner herein and cannot be used without express written consent. A Pawsitive Experience (TM) is the original dog daycare by this name.